There will be times that there will be more than a single scorer using the app at a game. Before the match starts, it is always a good idea to decide who the main scorer will be and when the handover to the other scorer will take place. 
Please Note: Please make sure that users have the correct permissions to use the scorer app - you must be signed up to Play-Cricket, a member of the club/league that you wish to score for and have the role of scorer or fixtures administrator. 
Step One: Press on the game you wish to score and select 'Continue Scoring'.

Continue scoring until you wish to swap over the scoring device for whatever reason. 
Step Two:
Press 'Save & Exit'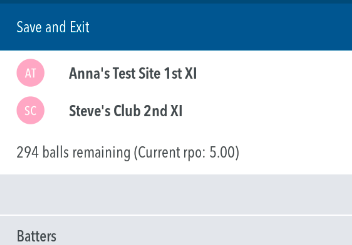 Step Three:
Select the 'Save & Unlock' option 

This will now allow scoring to continue from another device and for the data to upload to Play Cricket when synced. 
Don't worry if you press the Save button in error, as when the other scorer accesses the match they will see the below:

Once they have selected Continue scoring, they will see the below message

By clicking on the OK button, they will take over as the main scorer on the app
Please note that if a result is modified during the game via the P-C website this will lock the match to them which cannot be reversed in the app.