Customising The Interface (PCS Pro) Follow
There are several ways to change the look and layout of the Scoring interface:
Go to Views>Scoring Entry and select what you would like view on the interface (Play Control and Scoring cannot be removed)
Clicking and holding down on the name of each area will allow you to move it around the interface to suit, boxes will appear to highlight where you can place the box.

As you can see in the example above, the scoring tab can be moved and placed anywhere in the different directions by moving the mouse over whichever square you want. The area you want to place the tab will highlight to show you what your action will look like once placed.
You can have as much (or as little) of the Scorecard/Scorebook in view as you wish:
a) If you want more or less in view just move the bottom of the window frame.
b) That adjustment takes a mere second. So, toggling between maximising Ball by Ball or Scorebook/scorecard is easy.
c) If you get asked an question and need to produce 'Over by Over' or 'Partnership' data just re-enable those features.
You can also make the box pop out of the interface by clicking, holding down and moving it away from the drop boxes.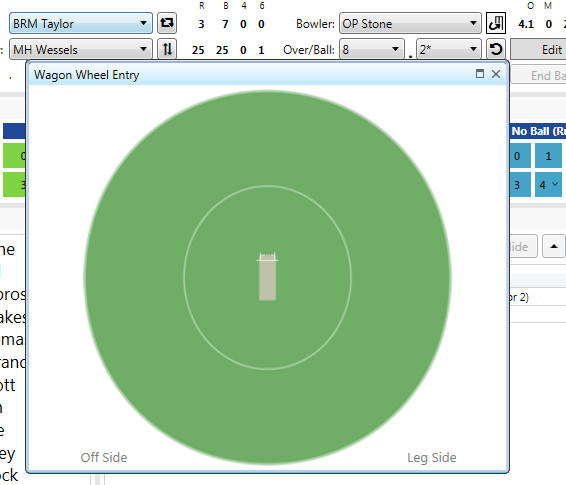 This allows you to expand the box up to full screen if you so wish, or remove it from the view by clicking on the x in the top right hand corner.