Downloading A Fixture (PCS) Follow
Please Note: This function is only available to Main or Fixture Administrators. Games verses scratch & unregistered teams are not available to be downloaded and scored.
Downloading the Fixture:
Log into the app and press the download icon.

The fixture will now be shown as UPCOMING in the MATCHES section on the app, please note the P-C system updates to the APP twice during the day at 11am and 1am.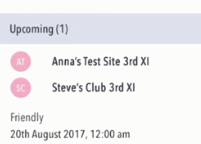 Select the match and begin scoring!