Scoring A Super Over After A Tied Match (PCS Pro) Follow
PCS Pro can be used to score a Super Over, for two-innings matches within any competition where these are allowed and the appropriate rules (number of overs and batsmen allowed) are part of the Match Type, when such matches 'end' in a Tie. When the final ball of the second innings is scored, making the scores level at the end of overs, this auto-prompt will appear:

Click Yes, and then the highlighted Next Innings button to get this prompt: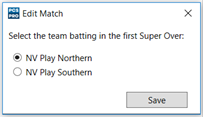 Select the required team and click Save. The two Super Overs can then be scored as normal innings, via the usual Next Innings, Start Play, and End Innings functions, and they will also appear on the Scoring menu.
At the end of the second Super Over, the usual end of innings auto-prompt will appear, and then the Edit Match Result/Points window with the auto-calculated winner and margin; click Save to confirm or edit if required.