'Reader' Instructions Option (PCS Pro) Follow
Option One: Accessing Scoring Data and Video in Real-Time (internet connection, but no ethernet cable)
• To access scoring data and video in real-time, connect a 'reader' laptop to the internet and, once the analyst has created the match on their laptop (after the Toss but before play starts), login to PCS;
• Go to 'File -> Open Match', select the required match from the list, click 'Open Read Only', then ensure 'Video -> Live Download' is ticked to automatically download the video clip for each ball;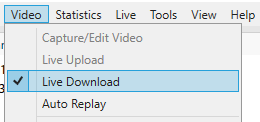 • The scoring data will come from the live/official scorer, and the video will only be available once it has been uploaded by the analyst and downloaded by the 'reader', so there will be some delay;
• Access video clips by double-clicking on the required ball in the 'Ball by Ball' panel, on a player's runs, wickets, etc on the main 'Scorecard', or by right-clicking on their name and selecting from the menus;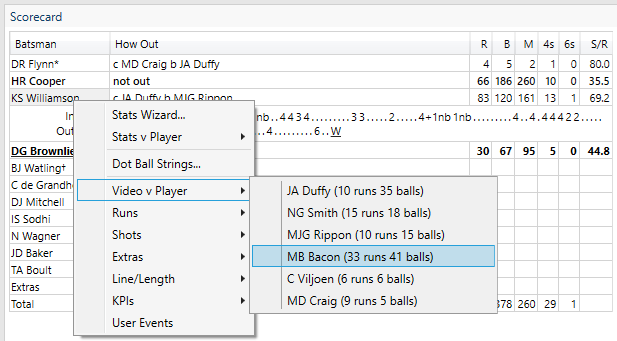 • The video clips will play in the normal pop-window, and can be controlled via the on-screen buttons, or, if in Full Screen mode, by using the up (play), down (stop), left (back by frame) and right (forward by frame) arrow keys on the keyboard. An individual clip, or series of clips, can be saved as usual.
• To return to a previous innings, click 'Scoring -> Innings 1, 2, etc' or simply click the team score of the required innings in the 'Score Summary' panel. Click the latest innings to return to the live play.
Option Two: Accessing Scoring Data, Video & High Performance Data in Real-Time (via ethernet cable)
• To access High Performance data during play, such as wagon wheels, pitch maps, shot types, etc, the coach's reader laptop must be connected to the analyst's coding laptop by ethernet cable;
• Check that both laptops are allowing direct network connections under 'Tools -> Configuration -> Network' and that this checkbox is ticked:

• As in Option One, after the analyst has created the match on their laptop, login to PCS and go to 'File -> Open Match from Local Network', highlight the required match, and click 'Open Read Only';
• All scoring, video (accessed as above), and now High Performance data, will automatically update after each ball during play, and the latter information can be accessed via the 'Statistics' menu;
• Team and individual player stats are available from this menu in various categories, which generally present data in a wagon wheel format that can be filtered to narrow the required information;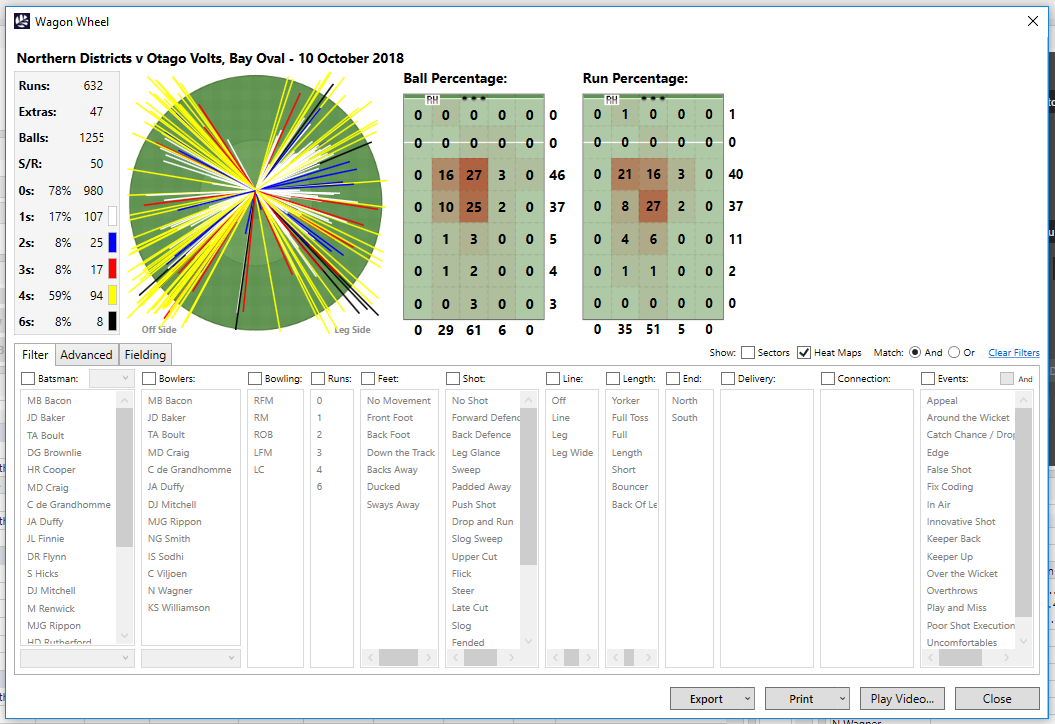 • In most cases the stats will link to the relevant video, which will also immediately update as various filters are selected, and can be access by double-clicking a statistic or clicking 'Play Video';
• Similarly, many of these statistics windows can also be printed, saved as PDFs, or exported as Excel spreadsheets for individual and team analysis or opponent and opposition scouting.
Option Three: Accessing Stats & Video Post-Match
• To access stats and video after a match (e.g., for a scouting match), wait until the analyst has completed the "merge" of their data with the live scoring data (which should be within an hour of the end of play);
• Login to PCS, go to 'File -> Open Match', highlight the required match from the list, tick both 'Download Latest from Server' and 'Download Video Now', and click 'Open Read Only';

This will open the below 'Download Video from Server' dialog box – to download the entire match, leave 'Download all video' checked and click 'Download Now';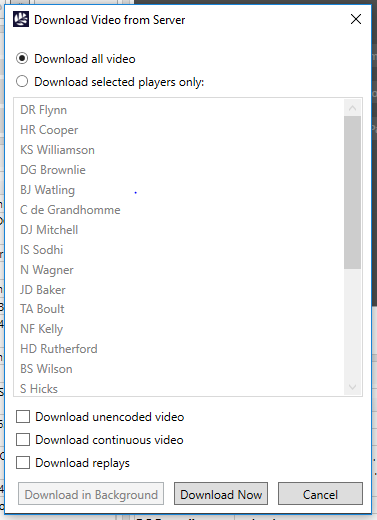 • To download video for an individual player only (this will save time), check 'Download selected players only', left-click on the required player, then click 'Download Now';
• To download video for multiple, but not all players, check 'Download selected players only', hold down the Ctrl key while left-clicking on the required players, and then click 'Download Now';
• The download process will take a few minutes, depending on the amount of video to be downloaded and the speed of the internet connection, but once complete all stats and video can be accessed as above;
• Finally, PCS's functionality works on the same principles as Feedback Cricket, so once you begin using PCS it should look and feel familiar, but if you require assistance please contact your analyst, John Furlong, or Pete Mayell.