Leagues - Result Entry Validation Follow
This allows league administrators to choose which elements of result and scorecard entry they wish to have validated and then refer any exceptions to the Play-Cricket's workflow. Different schedules may be defined and applied to selected divisions and cup competitions.
Select Validation Rules from the Competitions section of the Admin Home page.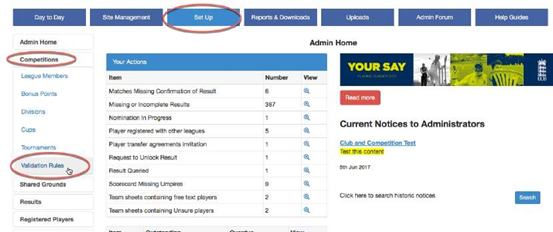 Click the Add button to create a schedule.

The Copy button allows administrators to create new schedules based on an existing one.

Enter a name for the schedule and select Next.

Click the Edit icon for Result Entered.
Select all the boxes that are required when a result is entered and save the changes.

The Result Entered line is updated.

Edit the Home Team Confirmation. The Away Team Confirmation appears at the same time

When the Result Entry section has been completed, select the Team Sheets option.

Note. This check is concerned purely with the team sheets that are populated when the result is uploaded, and not the scorecard.

Select the rules to be applied, save the entry and the Content tab will be displayed.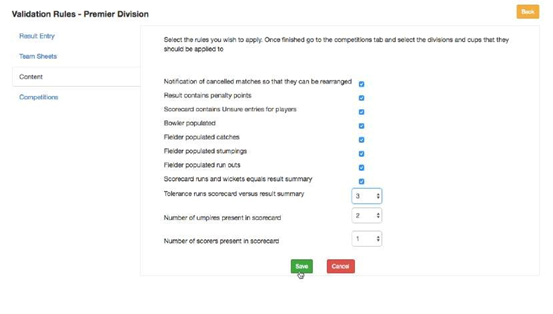 As before, select any rules that you wish to apply.
Save the entry and the Competitions tab will be displayed.

Select the divisions and cups to which the validation schedule applies and save the changes.
The Set-Up screen for Divisions and Cups displays the validation rule which applies. Notice that this is a field which can be used to select a different schedule if others exist.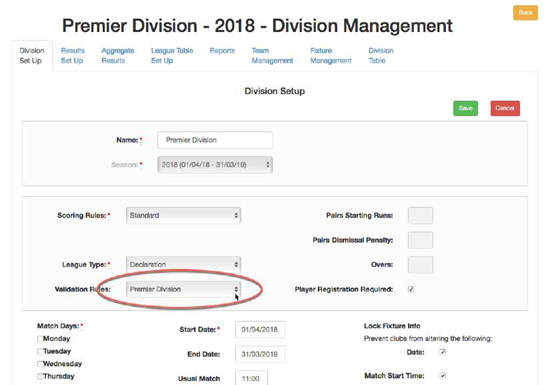 Leagues - Result Entry Validation Emails
Where available, the email's list of recipients will include:
The Team Captain (over 16 years old) from the Home Club's team page
The Team Captain (over 16 years old) from the team sheet of the Home Club for the match concerned
The Team Manager from the Home Club's team administration page
The Hon. Secretary from the Home Club's "About Us" page
Each person with a role of Main Administrator or Results Administrator from the Home Club