Member Management - Player Transfers Follow
Player Transfers
In this example, a player already registered with a league has applied to play for another club in the same league. A club administrator created the player's record.

Now complete the player category field.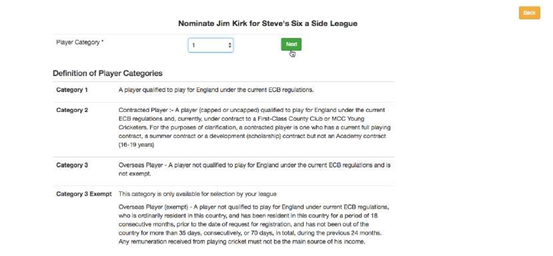 Using the data supplied, the system detects that the player is already registered to the league with another club and indicates that the nomination is to be treated as a player transfer. If you do not agree, then you must uncheck the tick box before clicking the Next button.

If you left the Player Transfer box ticked, the next screen will be a questionnaire from the league regarding the transfer as below. Otherwise, it will be a standard nomination.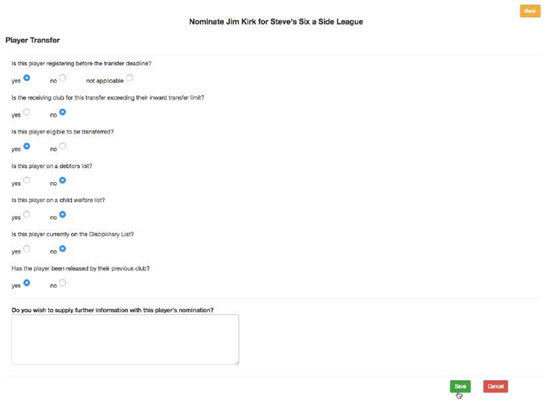 If you unticked the Player Transfer box, then use the form to record why. The league will still be able to see the records and if there is no good reason to ignore, may well return the registration to you.
When you have completed and saved the details, the league site will be notified.
Note that if the transfer involves two leagues, the current league that the player is registered with will receive a notification as an interested party.
Before submitting a transfer, make yourself aware of your league's regulations, as these will differ from league to league. The system will not prevent a transfer request that is after a deadline or breaks some other league's rules, as programming in every specific instance is impossible.
However, your league may decline the transfer, depending on their process.