Set-Up - Cups & Tournaments Follow
Cups
There is a separate document dealing with Cups under the topic 'Cup Competitions' in the Help Guides.
Tournaments
The Add Tournament button allows the administrator to define a name, and to create a tournament.

By each active tournament in the list, there are several links.

Working from right to left, these are:
Delete – deletes the tournament, but does not delete its components. In this example, the delete icon is not available for the first entry because the tournament has a division or cup associated with it.
Archive – archives this entry for the tournament and season so that it no longer appears in the active list. It is advisable to do this after each season end so that only current tournaments show in the active list.
Edit – shows the tournament and its associated components and allows the administrator to update the structure and components.
Selecting 'Edit' lists the components within the tournament. There are links to allow the administrator to remove the divisions or cups and to sequence the components.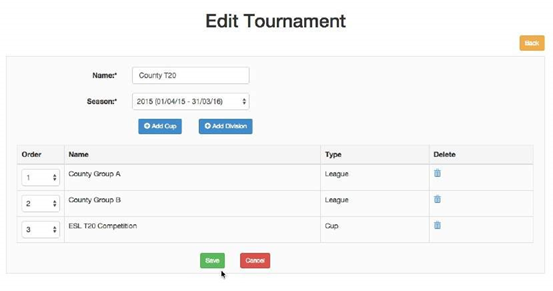 NB there is no functionality to progress teams automatically from one phase to the next – the administrator must enter successful teams into the next phase manually.