Various Scoring Configuration Options (PCS Pro) Follow
A number of Configuration Options have been added to the Tools -> Configuration -> Scoring tab to turn ON or OFF some new features, as below: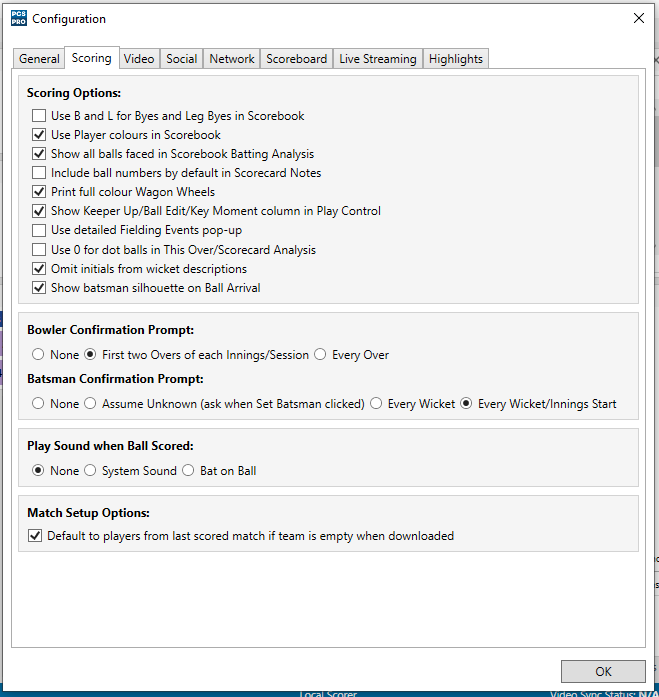 The first new item is the 'Show Keeper Up/Ball Edit/Key Moment column in Play Control' option, which turns on a column of three buttons in-between the Bowler, Over/Ball, and Play State dropdown arrows and the column of Around the Wicket/Undo/End Over-Umpire Signal button, as below (currently, only the Keeper Up button is active):

To record detailed fielding information, tick the 'Use detailed Fielding Events pop-up' option, and then double-click on any player name on the Fielding list (under View -> Scoring Entry) to code fielding events, runs cost or saved, and fielding position(s) as required on each delivery: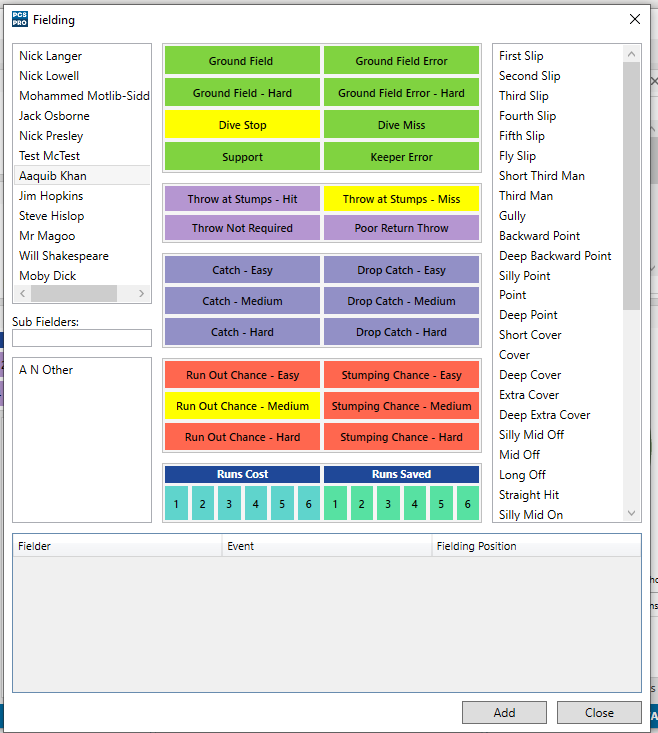 The third new option is to 'Use 0 for dot balls in This Over/Scorecard Analysis' instead of the default '.'. This will make dot balls (0 instead of .) easier to see in bright sunlight.


The 'Omit initials from wicket descriptions' option removes player initials from dismissals on the Scorecard, Scorebook, and the respective reports/PDFs, so as to display only their surnames. Smart logic, however, is deployed here for duplicate surnames and sub-continental names.

Finally, the 'Show batsman silhouette on Ball Arrival' option displays a Left-Hand or Right-hand batsman's silhouette on the Ball Arrival (under View -> Scoring Entry) graphic: