Play Cricket Sign Up Process - Adding a Child at Registration Follow
Play-Cricket - The Sign Up Process
This document illustrates the process to sign up to Play Cricket in order to join any of the Play-Cricket clubs, county board or league sites. It also outlines the process of adding a child to an adult account at registration.
Start by selecting 'Sign Up' on the Play-Cricket site.
Alternatively you can sign up directly here.
Here it is from play-cricket.com: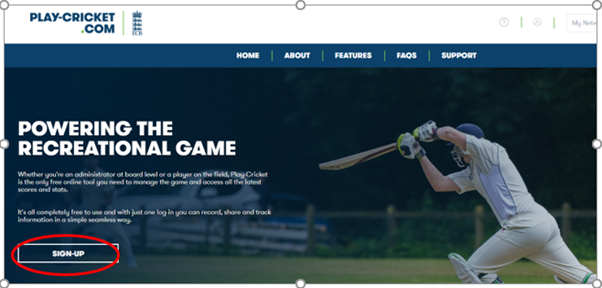 Now enter your details on the form that appears and select Continue: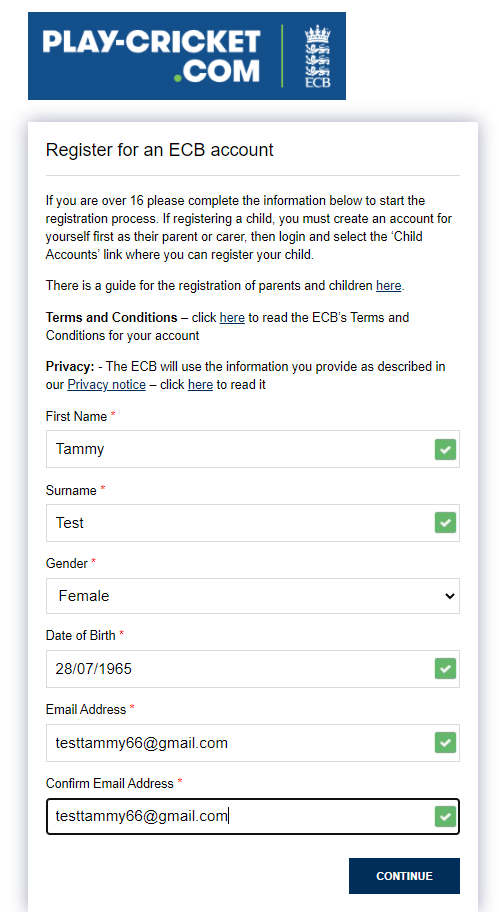 The next step is to create a password. These details are entered twice to check that you haven't made a keying error, so don't copy and paste your email address into the second box.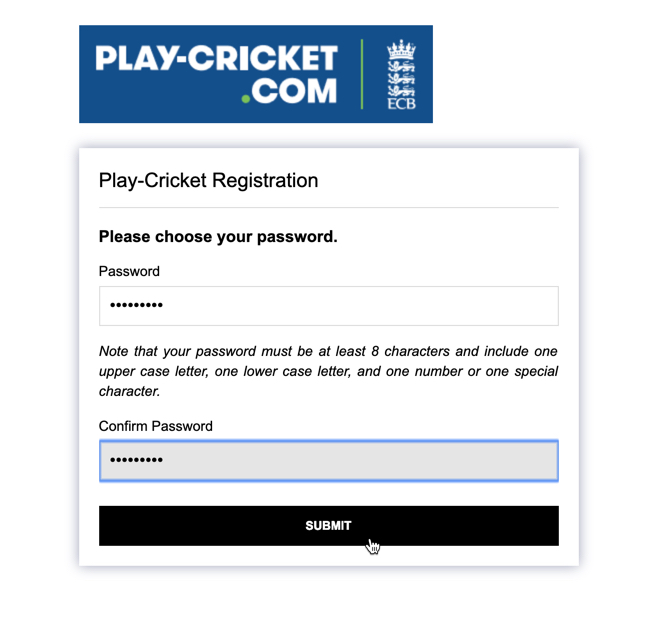 When you click on the Submit button, you should receive the notification below: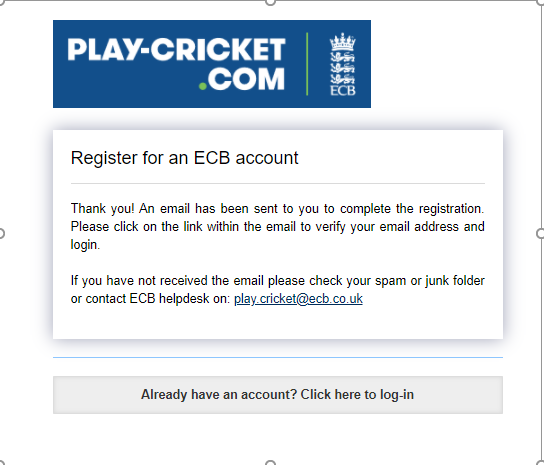 This is followed by an email, with a link to validate your email address.
See the example below. Please make sure you only click on the link once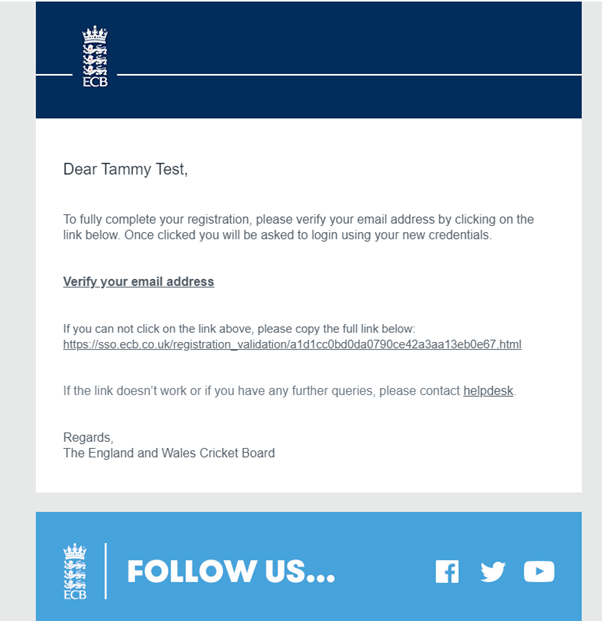 You will then need to log in to your account: using the details you signed up with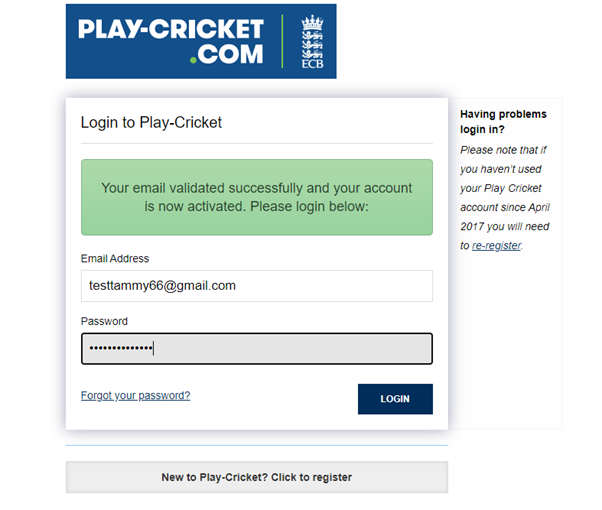 You must select either Yes or No for each of your communication preferences and Confirm that you have read the privacy policy and accept the Terms and Conditions once completed please click Accept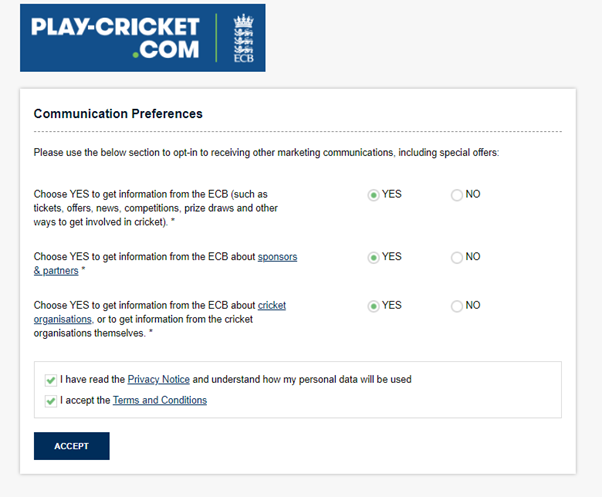 Once you have accepted the Terms & Conditions & confirmed that you have read & understand the Privacy Notice you will be able to follow the set up wizard to enter your account details.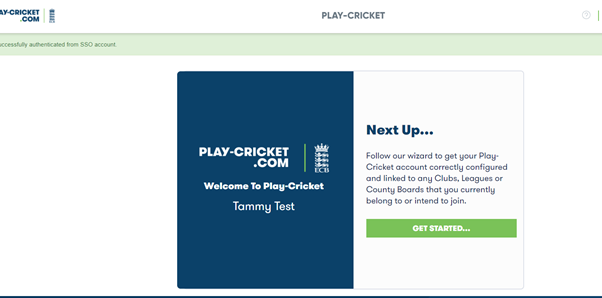 If you are wishing to add a child/children to your account you will need to select that you are a parent of a child who is a player. (This will enable you to set up your own account and your child if under 16 will be added to your account so you can manage their details and availability)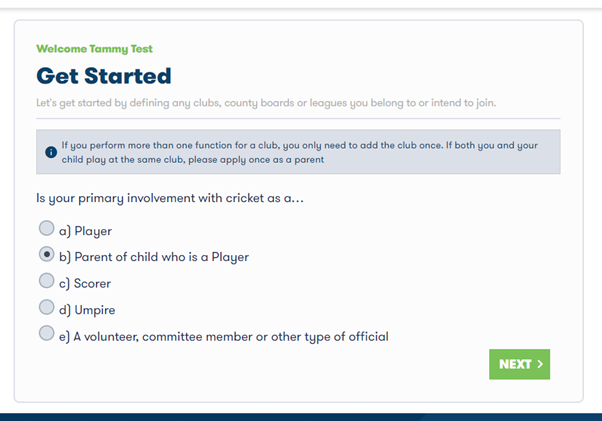 You will then be able to select whether your child plays for a club or county board, select the name of the club/county board.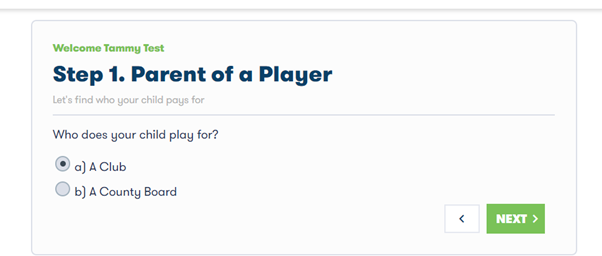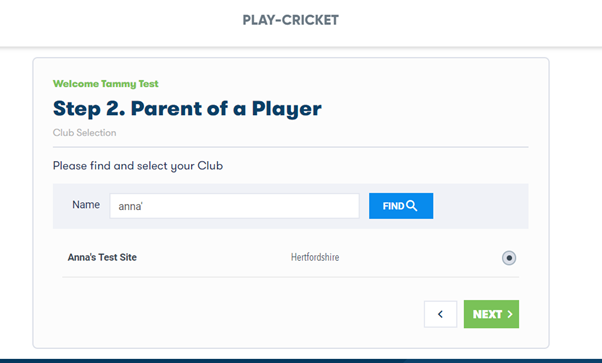 Once the Club/County Board has been selected please complete your address details and the reason for applying to join the Club/County Board you have selected.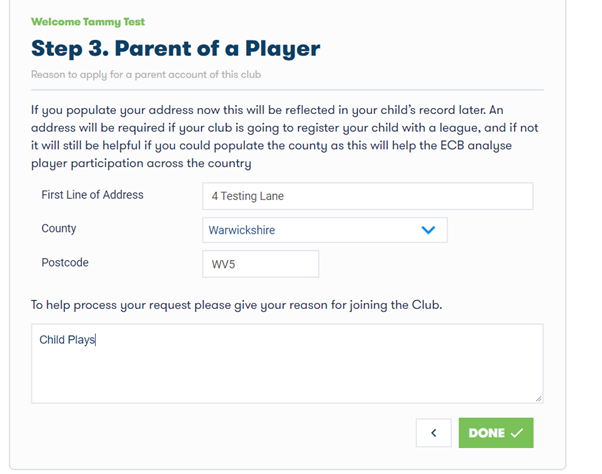 You will then be able to complete the registration process for your account by selecting Finish set up and All Good, Continue on the Confirmation Page: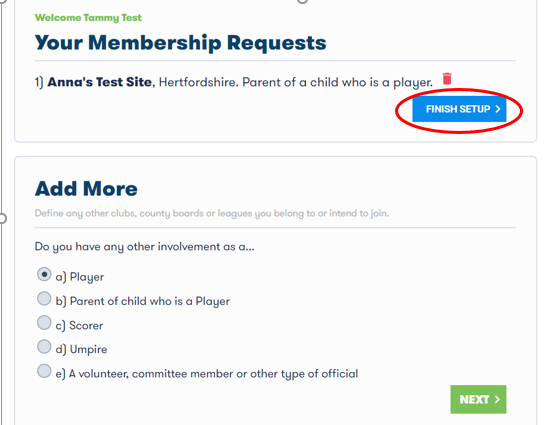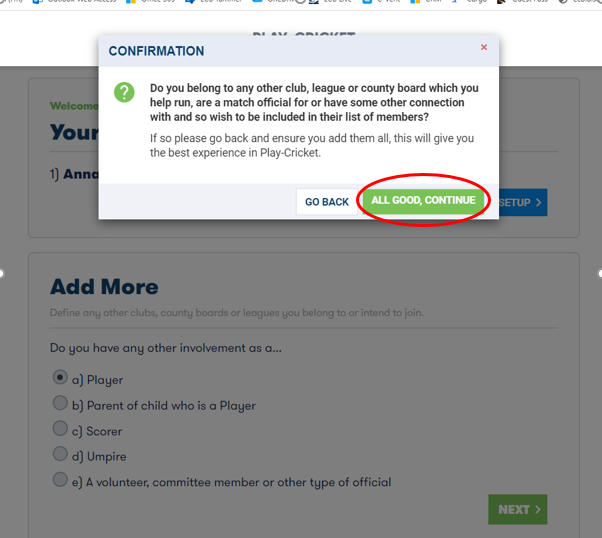 You will now be able to complete the account set up for your child by selecting Add Child on the following screen: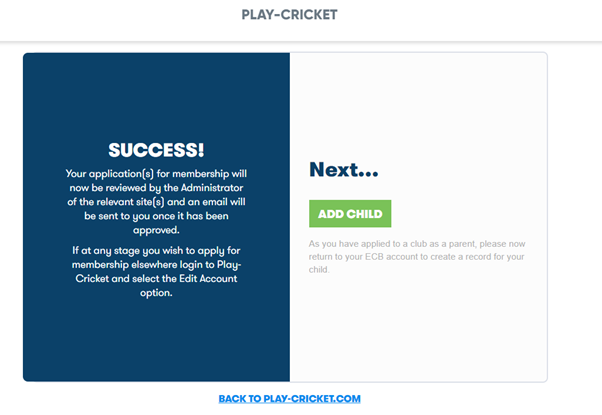 You will be taken to your account page so please select the Child Accounts tab: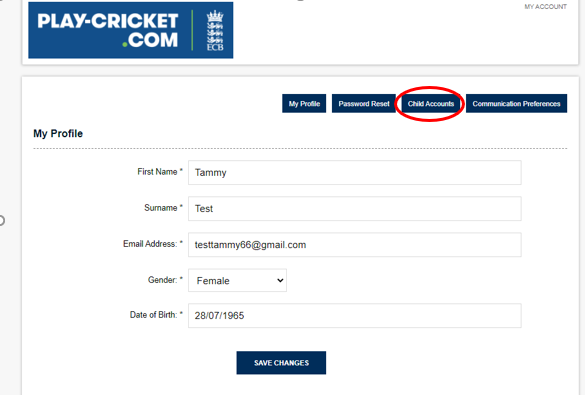 Complete their details ensuring that there is a tick in the Associated Application area for Play Cricket and once done click save: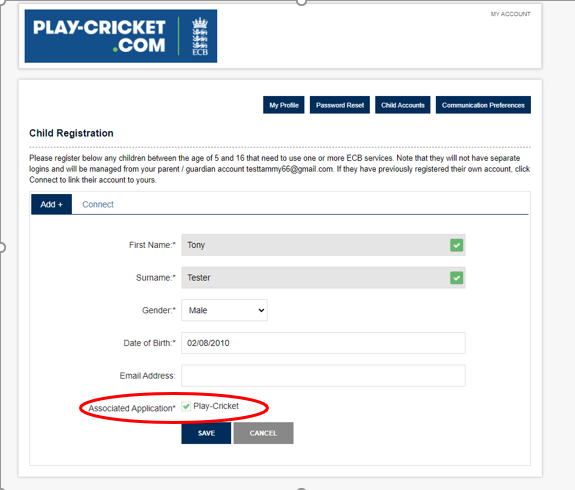 The confirmation that the child information has been added will appear and you will be able to complete the registration by clicking on the proceed to Play-Cricket to complete registration link: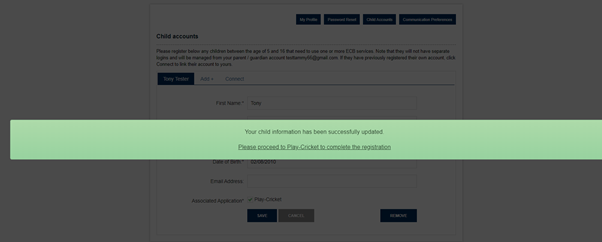 Please note that when you click on the link it will open up a new tab on your screen so to navigate back to your own account at anytime please click on the first tab: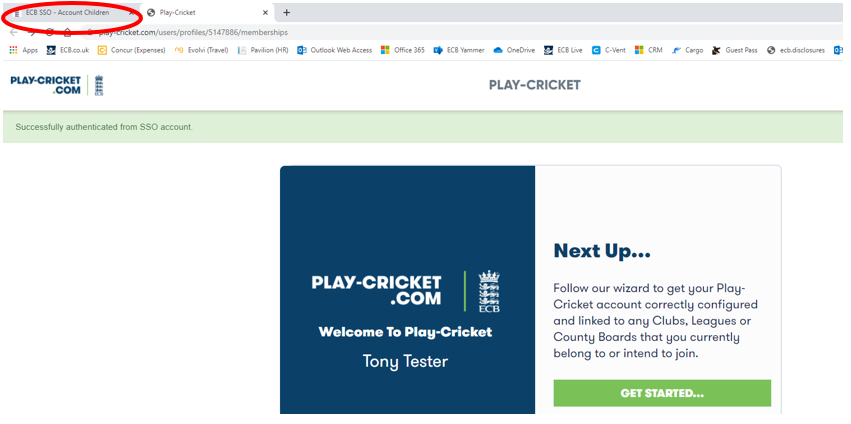 Click Get Started to add your child's Club and follow the on-screen prompts to complete their account set up: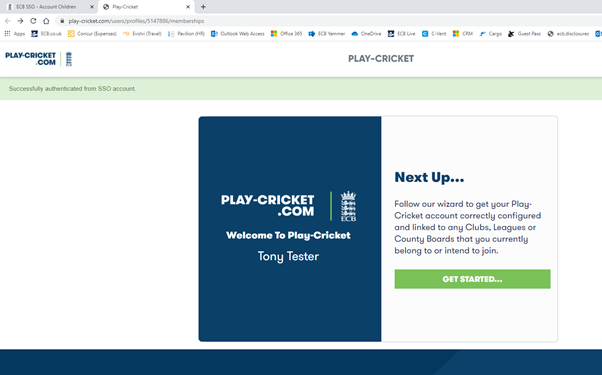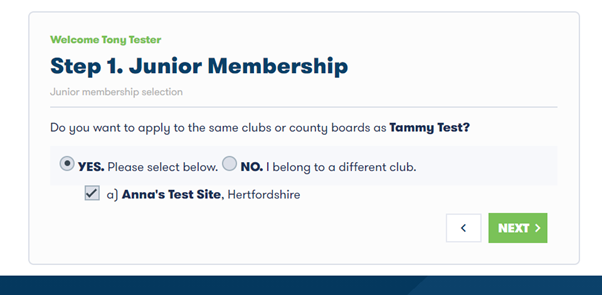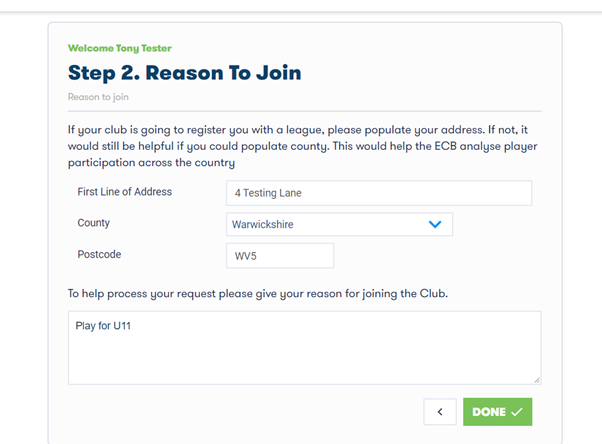 Once complete select Finish Set up and All Good, Continue on the confirmation page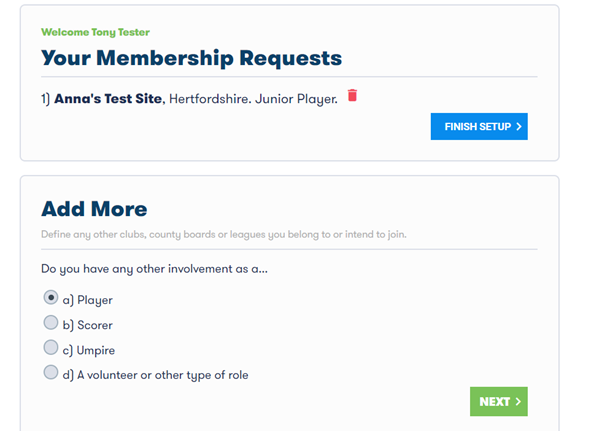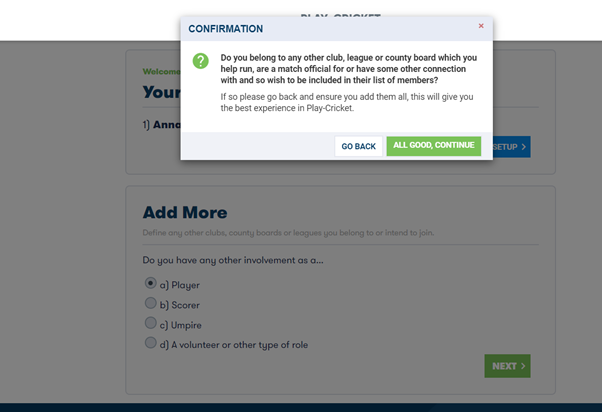 If you wish you can select View/Edit My Account to add further information or memberships to your Childs account, or add additional child/children by following the further instructions below. if you do not want to add further information your registration is complete and pending approval by the club/county board and you can now close the page: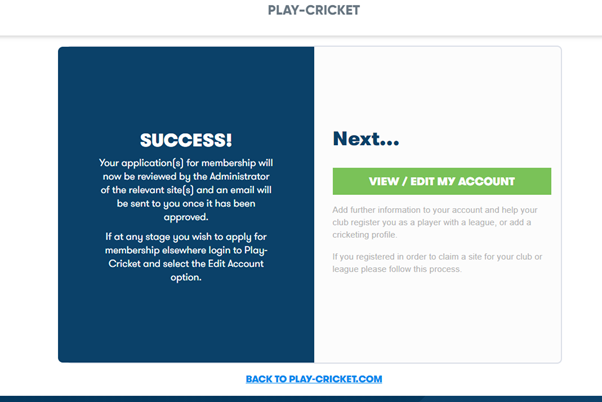 Adding additional child/children to your account:
Select the tab at the top of the page that contains your own Play Cricket Account details and select Child Accounts - Add + - Complete the Name, dob etc and ensure that the Associated Application Play Cricket is ticked and once complete click save: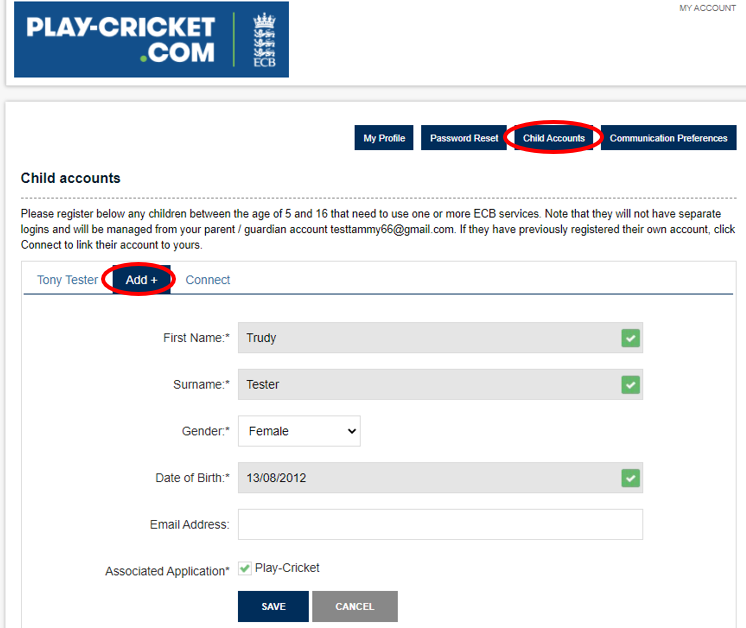 You will then be able to complete the second child's details by following the prompts on screen as you did with the first child account you added: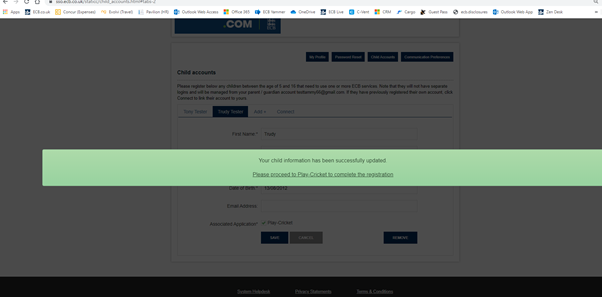 Once you have completed the registrations for all child accounts that you wish to be added to your own account you will be able to manage and edit them from your own account. Log in to your Play Cricket account and click on the head and shoulder icon, you will then be able to select the name of the child account you want to manage from the drop down list: