Getting Started With PCS Pro Follow
Getting Started with PCS Pro

In this document you will find some useful tips and answers to the more commonly asked questions. This is not a comprehensive 'how to' guide but designed to get you up and running as quickly as possible on PCS Pro.
We have lots of support documents, tips, video tutorials and FAQ's for you to view here:
https://play-cricket.ecb.co.uk/hc/en-us
We also have our Play-Cricket Helpdesk which you can reach at play.cricket@ecb.co.uk
We also have a Google Group which can be found here:
https://groups.google.com/forum/#!forum/play-cricket-scorer-pro

This group is there so that you can chat, help each other, share thoughts and ideas.
Or you can find these on PCS Pro by simply selecting Help.
Before you get started:

As the League/Club Administrator, there are some things you can do to reduce the workload of the
scorer and help the process:
• Ensure your League rules, bonus points, scoring rules and fixtures are correct at all times for the season (League).
• Good data management is key. Make sure all club member data is up to date and remove any stale records (Club).
• Make sure the correct players are listed in the squads for the right teams at all times (Club).
What do I need to be able to use PCS Pro?
You will need several things to use the software:
• A Laptop, the minimum requirements recommended by the developers of PCS Pro can be found Here
• A Play-Cricket Account (for recreational scoring) or an NV Play Account (for first class scoring) (Optional).
• Scorer Rights to be able to upload results to Play-Cricket and live score (Optional).
• Internet connection (only needed to download the fixture and upload the result on your device).

I don't have a Play-Cricket account, how do I set one up?
Please visit www.Play-Cricket.com and click the Sign Up button.
I don't have an NV Play account, how do I set one up?
This is for First Class Scorers. Please contact your Primary County Club Scoring contact who will request your login. Please contact the helpdesk at play.cricket@ecb.co.uk.

I don't have scoring or results Play-Cricket Admin rights, how can I get them?
This is something that the Main Administrator of your club can give you.
How do I find out who is my Main Club Administrator?
Please contact the helpdesk at play.cricket@ecb.co.uk

I have a Mac, can I run PCS Pro on it?
The software works on both Windows and Mac, however in order to run on a Mac you'll require Parallels Desktop or similar https://www.parallels.com/uk/products/desktop/
At the ECB we are committed to developing PCS Pro and may consider developing a Mac version in the future.
Will PCS Pro run on Windows 10 S?PCS Pro will not run on Windows 10 S in its current form. Windows 10 S is designed to only allow apps to be installed from the Windows Store.
Users can upgrade to Windows 10 Pro for a small cost. If there is significant demand for Windows 10 S support please get in touch at play.cricket@ecb.co.uk and we will evaluate this for a future release.
Do I need internet access to score a game?
No you don't, there are two ways of scoring a game:
• Live Scoring (connected to the internet and uploading to Play-Cricket every over)
• Local Scoring (with no internet access)
Top Tip: If Live scoring please make sure you have a constant internet connection so the live scoring upload is
not interrupted.
Can there be multiple scorers scoring the same match?
Yes, you can have multiple scorers of a game, however there can only ever be ONE live scorer.
The Live Scorer of a game will be shown on the Fixture List which is found by
File>Start Match From Fixture> Select Club/Organisation.

If you select a match with a Live Scorer, you will receive a prompt:

Top Tip: If there is more than one scorer please discuss before the game who will be the lead live scorer to reduce the chance of miscommunication and confusion during the match. In many leagues the home scorer is the designated live scorer of the game.

You mentioned the term 'Live Scorer', what's one of those?
Live Scoring allows you to update various platforms over by over as long as you have internet connection. This could be in the form of the Play-Cricket Live app, Twitter etc.

So everything's in place, what's next?

Getting Started:
What if my League doesn't use Play-Cricket but my club does?

If your Club does use Play-Cricket, you can set up your League and friendly fixtures in Play-Cricket and they will download into PCS Pro, exactly as if they had been created by the League. However, DO NOT create any League fixtures if they have been/are likely to be created by your League administrators as this will cause duplicate entries and you could end up scoring a match that doesn't update league tables. Once the details are created they will remain in your local database.

I've installed PCS Pro but want to test it out before I score a game for my club, does it have a Demo mode?

PCS Pro has a Demo mode which will load when you first install the application at the Record Toss phase. This is scored locally and requires no log in or internet connection. Please see the attached video tutorial.
If you wish to test the system with your own club's data you must have Fixture Admin (or ask your Fixture Admin to set some up) rights. You can set up a friendly game on your club's Play-Cricket site by doing the following:
Step One:

Go to Day to Day>Fixtures>Fixtures>Add New Fixture.

Step Two:

Add the fixture details (all boxes marked with * are compulsory) making sure the Game Type is set to Friendly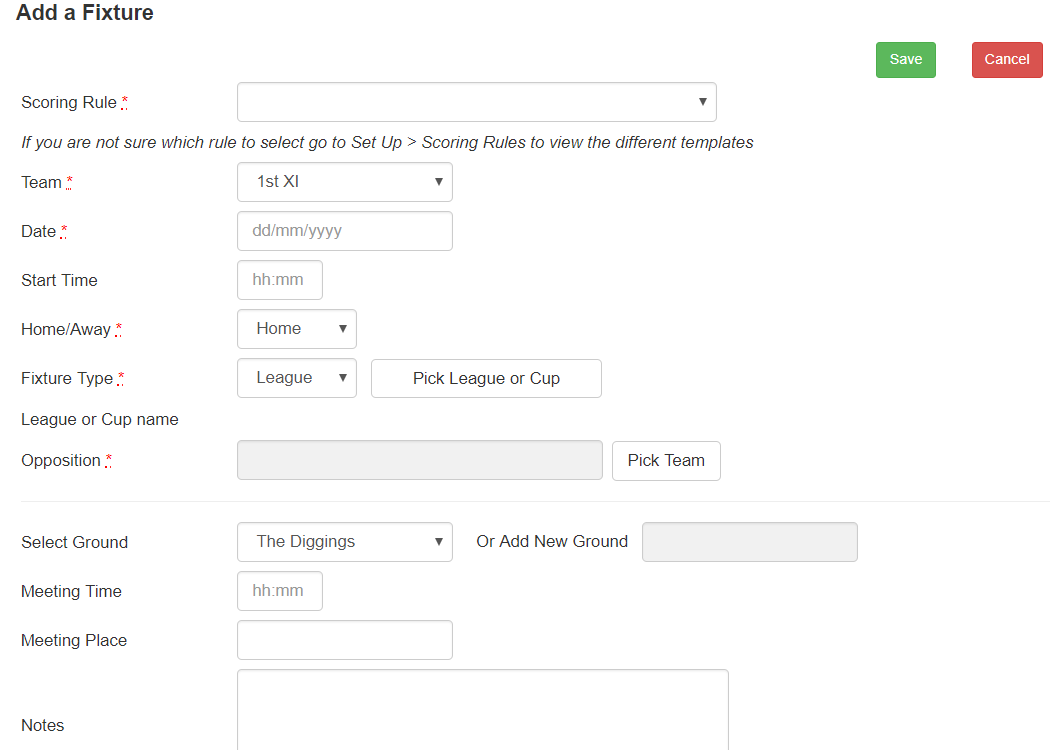 Press Save.
Step Three:
If the team is known beforehand you can enter the details by clicking on the Team icon.

You can then enter your team: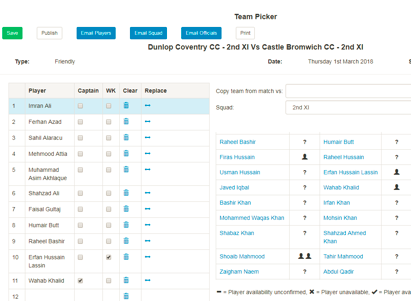 Once entered, press Save.
Downloading the Fixture:

Top Tip: This is the only step needed if your fixtures have already been created (i.e. league or cup) on Play-Cricket.

Step One:

Open and log into PCS Pro. Select File>Start Match From Fixture

Step Two:

Select the club/organisation and the date range for the fixtures.

Press Continue or Double Left Click on the fixture to enter it.
Step Three:

Enter match details if needed (Items marked with an asterisk are compulsory)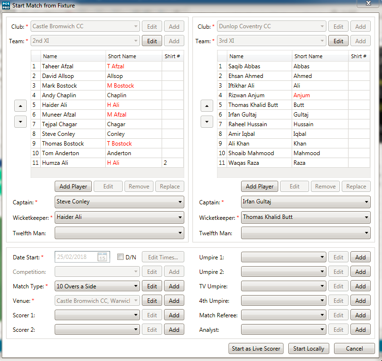 Match Type/Scoring Rule:

Warning: Each League will require their Match Types/Scoring Rules to be set up BEFORE the season by the League Administrator.
These Match Types will be set to the specific league rules e.g. Div 1-3 45 overs Div 4-6 40 overs etc.
The Match Type option can also be used to set up specific matches for your local database (saved on your computer and nowhere else).
What do I do if the umpires don't appear in the list of officials?

You can click on the add button next to the Umpire box to manually input the Umpire details, however if you choose this method the Umpire will not appear on the Scorecard until the League Administrator approves it.

Why don't some team members appear to be able to be selected for the match?

If your League uses the Play Cricket League Registered Players (LRP) function only players with LRP will show up in the team selection. Players may also be unavailable due to them being attached to the wrong team. This is why it is really important to make sure the player database is up to date and has no old data retained in it.

Once details are entered you have three options; Start as Live Scorer, Start Locally or Cancel.

Start as Live Scorer – this will allow you to score live, uploading the match over by over to Play-Cricket.com and the Play-Cricket Live app.
Start Locally - this is the offline version, meaning you don't need an internet connection to score the fixture. However, you will have needed to download this match before arriving at the ground.
Cancel – it does NOT undo the details downloaded. In effect it means 'I don't want to start scoring yet' so it cancels starting to score. The match is still saved for later scoring. i.e. it's what you do on a Friday night for a match on Saturday.

Starting the Match:

Step One:
You will now be taken to the main screen. The Record Toss button will be highlighted: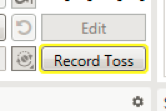 Step Two:
Click on the button to record the result of the toss and Save.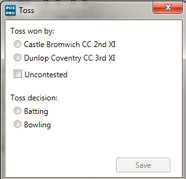 Step Three:

Select Bowler, Bowling End and then Start Play to get your scoring underway!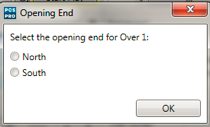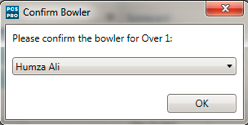 How do I add additional information to the match like wagon wheels, fielders etc?
To add any additional information to a ball (fielder, wagon wheel etc.) please left click on what you want to use BEFORE selecting the runs. Once a runs button is pressed it essentially closes the ball.

We have twins who play for us, Jack and John. Can I enter full names on the scorecard to tell the difference?
Yes, simply select the player in the pre-match set up and select Edit Player. Edit the Scorecard Name and Save.
How do I swap the batsman at the crease around?

To swap the batsmen at the crease around simple click on the Swap Icon to the right of the Striker:


Help and Support:

What do I do if I get stuck or want to suggest an improvement to PCS Pro?
We are constantly looking to improve the user experience of PCS Pro, if you would like to make a suggestion or provide feedback please contact us at play.cricket@ecb.co.uk
As mentioned at the top of the document, we have lots of support documents, tips, video tutorials and FAQ's for you to view here: https://play-cricket.ecb.co.uk/hc/en-us
The Google Group for our scoring community can be found here:
https://groups.google.com/forum/#!forum/play-cricket-scorer-pro
We also have our Play-Cricket Helpdesk which is a 7 day a week service during the season which you can reach by play.cricket@ecb.co.uk

Or you can find these on PCS Pro by simply selecting Help.