Leagues - Results Entry Validation. Missing or Incomplete Results Follow
When the system detects records with validation errors, and the deadline for entry has passed, these may be viewed from the Admin Home page under 'Your Actions'.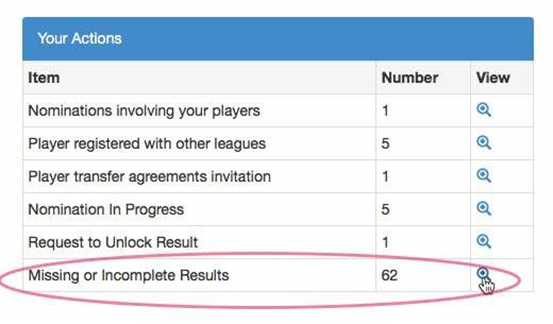 Click the View icon to see the list.

Select the view icon by the match get the details.
In the example below, the details of the team batting first are missing.

The clubs involved will also see a notification on their Administration Home page and the administrators just need to click the edit icon to edit the result.
In the next example, the match result has been recorded as 'Abandoned' but there have not been any balls bowled. In this case, the result should be amended to 'Cancelled' since 'Abandoned' applies to matches where the toss has taken place and at least one ball has been bowled. Cancelled matches are not checked for missing information.

Once the scorecard issues have been resolved, the notification will be removed from the list.