Day-To-Day - Registered Players Follow
The 'Day to Day' button's menu selections are illustrated below.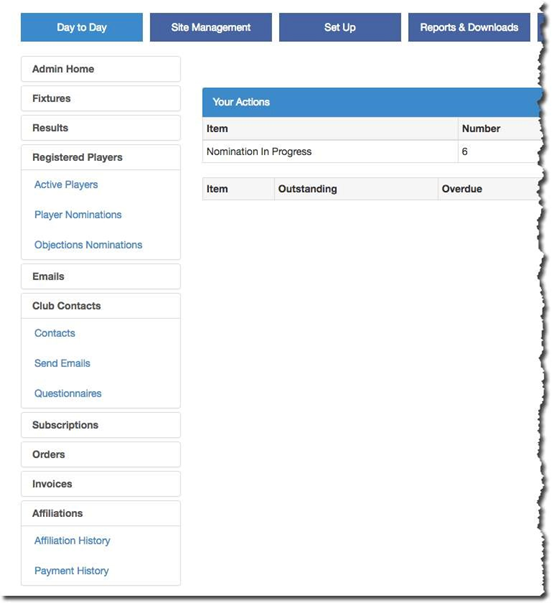 Registered Players
Some leagues require players to be registered with them before they can take part in a match.
The league registration process is documented in the topic 'The League Registration Process (post GDPR)' in the Help Guides.
Active Players

Click 'More Filters in the top right corner to refine the search process.

Use the Active Players search to find players using any or all of the following criteria:
Search for – Enter the text that you wish to search for. Results will be for all players containing the characters contained in the text box. e.g. entering 'will' returns 'Colwill', 'William', 'Wills'.
In – Select from Surname, First name, Email or Username.
Club – choose a club from the dropdown list.
User Type – Choose from Registered or Unregistered (with Play-Cricket).
Status – Can be Pending, Active or Inactive.
Category – Select the player category from the dropdown list.
Date of Birth After / Date of Birth Before – Enter a date to find players by age.
Registrations – Select All, Multiple or Single from the dropdown list. This facility helps administrators to find players who have registered with multiple clubs within their league.
Last Played Before – Use this date to find players who have not played in the league for a period so that the registrations can be removed.
If the search returns a list of players matching your criteria, you will see that the page has extra options – Remove Registration and Send Group Email.
Tick the Select All or individual check boxes to select players before clicking these buttons.
Removing a player's registration makes the record inactive.
Use the icons against the listed members' names to view player details, registration history, player stats, add notes, email a player or match the player's records.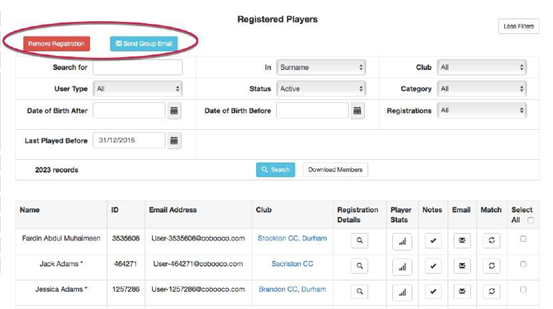 Download Members
Allows you to extract the players defined in the filters to an external file – spreadsheet, csv or XML format.
Player Nominations
Use this to view player nominations as an alternative to viewing them from the notifications from 'Your Actions' in the Admin Home section.

Use the view icon to see the options that are available as in the example below: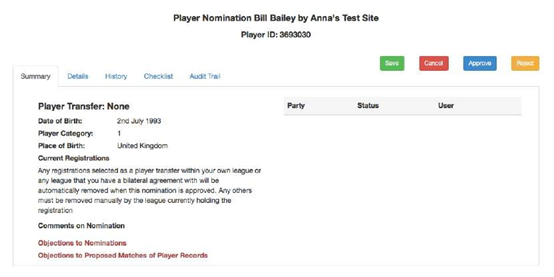 Objections Nominations
View any objections raised by your league to registrations of players (that you have an interest in) to other leagues.